Anytime, anywhere.
Get your taxes done right anytime from anywhere. Seamlessly switch between any device and securely pick up right where you left off when it's convenient for you.
We make it easy to do your taxes yourself. And we protect you with the strongest guarantees in the business.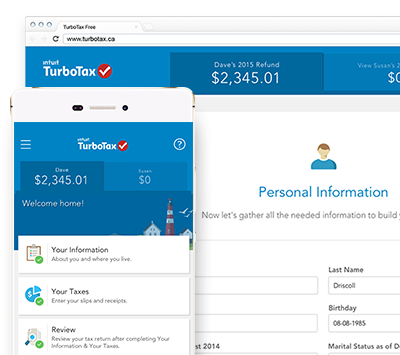 Forms and schedules made easy.
Find all your slips and forms with our powerful search and quickly enter your tax information on the forms and schedules you're familiar with.
We have all the federal and provincial forms you need to get your taxes done.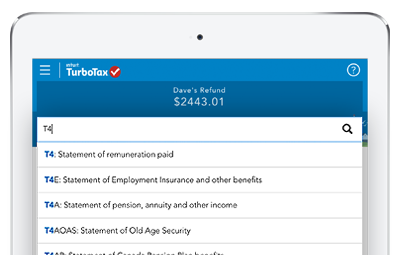 Find the answers you need
Have a question? Find the answer you need with our help panel, or from our community of users and expert-created FAQs on AnswerXChange.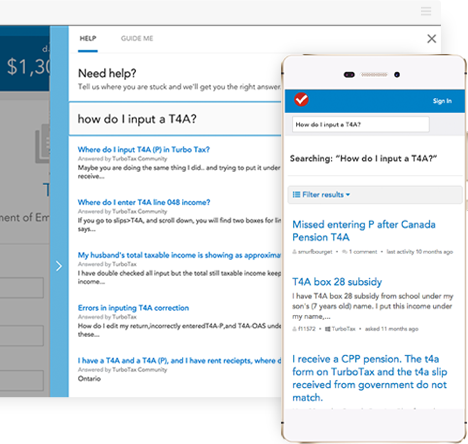 File with NETFILE2. And get a fast refund in as few as eight days3.
When you've finished your simple tax return, don't mail it. Use NETFILE instead.
NETFILE is the CRA's online filing service. It allows you to send your return to the CRA from your home computer.
TurboTax will guide you through the NETFILE process, ensuring that it's done correctly.
Does not support Form T1273 -AgriStability / AgriInvest Programs;
Excluded province : Québec
Does not support Form T1135 - Foreign Income Verification Statement.
Does not support prior year returns
CRA's NETFILE service is scheduled to open on February 15, 2016