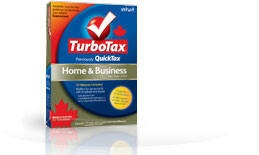 TurboTax Home & Business Download
For the 2010 tax year
Easily file your personal, self-employment & small business taxes together using TurboTax Home & Business - and maximize all your personal tax deductions and claim all your business expenses.
IMPROVED EasyStep™ Interview walks you through preparing and filing your return
Save more money with the help of business analyzers
Find business tax advantages with the Business Expert Interview
File online with NETFILE1
PLUS! Import your data from QuickBooks or Quicken.1 Carry-forward data from your 2009 return filed with QuickTax, UFile® or H&R Block®.2
$99.99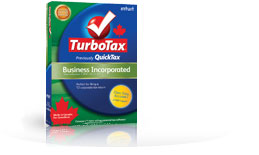 TurboTax Business Incorporated Download
For corporate year-end 2010/2011
Use TurboTax Business Incorporated to file your corporate T2 tax return. The Business Expert Interview asks you easy questions about your business. You answer, and we'll fill in the forms.

You can easily import data from QuickBooks & other accounting software3
Active Auditor reviews your return for errors - and alerts you to areas that could trigger an audit
Switch to the Forms Explorer to find government-approved tax forms
File online for free with Corporation Internet Filing
Tech support 5 days a week4
The results? You stay in control of your business finances - while claiming all the tax advantages you deserve.

Includes one T2 corporate tax return.
$149.99