TurboTax Basic
DOWNLOAD VERSION - WINDOWS ONLYFor T-Slips, employment income, and simple tax returnsWith flexibility to file up to 4 returns, and easy to answer questions, TurboTax Basic is made for simple tax situations and quick, accurate filing.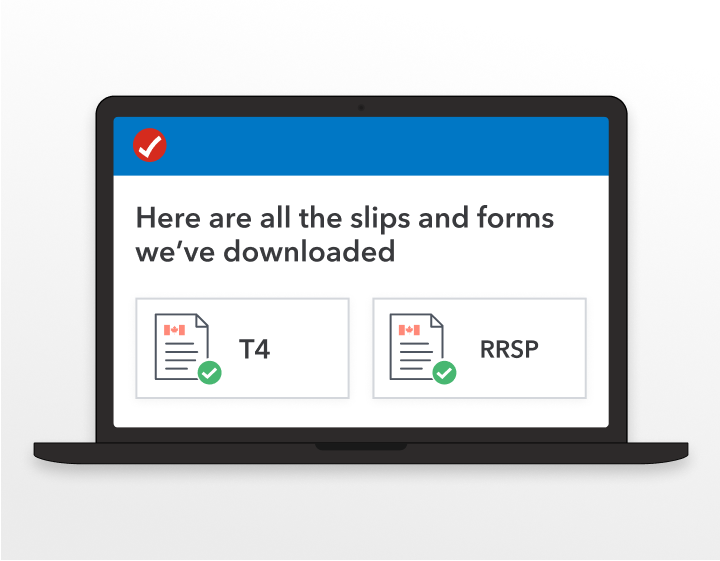 File your tax return with
confidence and get your
biggest refund
Get support
Need more help? Give us a call and use our SmartLook one-way video to share your screen with a product specialist to get the answers you need.
Switch to forms
If you prefer the standard CRA forms, you can seamlessly switch over for a more traditional and familiar tax preparation experience.
File faster
With CRA's Auto-fill My Return, you can download your current year tax information directly from the CRA in just a few clicks and automatically import it in your return.
A simple tax filing experience that makes it easy to claim:
T4 Slips

Employment income
Commission income
Taxable benefits

Expenses

Rent and property tax
Medical
Transport

Donations

Federal charities
Provincial charities
First time donor's super credit
Rated #1 in Canada

More than 5 million Canadians use our software to get their maximum tax refund, every single year.

NETFILE certified

Your tax return is securely submitted directly to the CRA with just one click. You'll get your refund fast - in as few as 8 business days.

Security is our priority

We work hard to safeguard your information so you can file your taxes with complete confidence.
Security is built into everything we do

TurboTax works hard to safeguard your information so
you can file your taxes confidently.

Here's how

---

Support when you need it

Find the answers you're looking for on TurboTax Community
with experts and community members.

Go to TurboTax Community
Questions and Answers
We know that many Canadian taxpayers went through life changes in 2021 that will affect their tax return. Whether you lost your job, began working from home, or received government relief benefits (such as CERB, EI, etc) due to COVID-19, TurboTax walks you through how to report it on your tax return. It also points out credits you might not have known you were eligible for, including an up-to $400 work from home credit (that's really easy to claim—you basically just need to enter the number of days you worked from home and the software does the rest).Learn more about how COVID-19 is impacting this year's taxes.
If you received Canadian Emergency Response Benefit (CERB) or Canadian Recovery Benefit (CRB), you will receive a T4A slip; Employment Insurance recipients will receive a T4E. You will need to report this on your tax return so it can be added to your taxable income.Learn more about reporting these benefits on your taxes.
All of the following reviews have been submitted by actual customers who have used TurboTax Basic to file their taxes.
Microsoft Windows System Requirements
Operating Systems:

Windows 8.1 or 10 required (Windows 8 and Windows 7 not supported)

Display:

1024 X 768 minimum resolution
16-bit or higher colour

Audio:

Windows-compatible soundcard and speakers or headphones to play multimedia

Internet Browser:

Internet Explorer 11.0 or greater

CD Drive:

CD drive required if you are installing from a CD

Third Party Software:

Adobe Reader 10 or higher (or compatible PDF reader)

Printer:

Windows-compatible printer

Hard Disk Space:

500 MB for TurboTax (plus up to 4.5 GB for Microsoft .NET 4.5.2 if not already installed)

Internet Connection:

1 Mbps modern (Broadband connection highly recommended)

Note:

TurboTax may be installed on three computers and must be activated via Internet.